-Introduction
-Features
-Screenshot
-Download
-Frequently Asked Questions
-History
Introduction
Deploying Java Applications can be a pain if your application has multiple jars and native libraries. There are the options of using Java Web Start or Java Applets however these are not always suitable.
Executable Jars are an option, however if your project has multiple jars or native files then it can be tricky to use this option.
JarSplice attempts to solve this issue by allowing you to merge all your jars and native files into one, easy to use executable jar file.
Creates a single executable fat jar via an easy to use GUI.
Automatically extracts only the native files needed for the OS the jar is running on.
Automatically cleans up any extracted native files after the application quits.
Add VM arguments on jar creation which removes the need to enter them via the command line.
Optionally create a Shell Script (*.sh) launcher for Linux with embedded fat jar.
Optionally create an OS X App Bundle (*.app) for running your application.
Optionally create a Windows Application (*.exe) for running your application.
Screenshot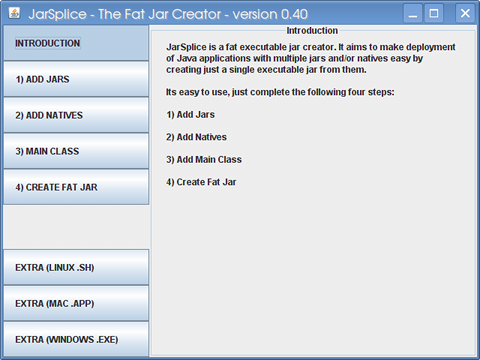 Download
JarSplice-0.40.jar (135.8kb Executable Jar)
Frequently Asked Questions
Q. What License is JarSplice under?
A. JarSplice is free to use for any type of application. The source code for the actual JarSplice application will be under a BSD Licence. Anything produced with JarSplice remains under the same licence as the input.
Q. Does JarSplice create Jar files from source/class files?
A. No, you must put your project files into a jar file before using JarSplice. Most IDE's have this feature built in and allow you to export your class and resource files to a jar.
Q. Does JarSplice create Windows Executables (*.exe files)?
A. While the Executable Jar files (*.jar) produced by JarSplice run on windows just by clicking them you may want an exe files instead. Exe files have a slight advantage in that you can associate an icon with them and that end users are more familiar with running them. Tools such as Launch4j or JSmooth can produce exe files that can wrap or launch jar files. If you create the executable jar with JarSplice you should be able to wrap it into a single exe file, alternatively you can just include an exe launcher with the jar file so that end users on linux and mac can also start the jar file from the same bundle.
Q. How do you create *.icns icon files for use with OS X .app bundles?
A. This is the Apple Icon Format used by OS X for App Bundles. Many image editing tool like the GIMP and Photoshop support the format. You can also use free online converters like iConvert to create *.icns file.
History
0.40 - 27/06/12 - redone parts of the GUI (fixes file dialog issues on OS X), added option for creating OS X .app bundles and Windows .exe files.
0.30 - 17/06/12 - added success/failure message on jar creation, use same jvm for app as JarSpliceLauncher
0.25 - 19/06/11 - added support for vm arguments.
0.20 - 05/06/11 - added support for creating linux shellscripts, separated core code from gui code, improved layouts on gui.
0.16 - 01/06/11 - added ability to remember last location when using JFileChooser.
0.15 - 31/05/11 - fixed problem with Windows paths.
0.10 - 22/05/11 - initial release of JarSplice.
If you have any comments, bug reports or RFE's just post them as a comment below.